This Week at Trinity, Beamsville
Friday, June 4, 2021
Dear Friends,
This week's writing is not what I expected it to be. In this opening week of a month of celebrations and milestones (the UCC beginning in 1925, Pride, Multiculturalism, Indigenous History, to name a few), I had planned to blather on about all of that, and how it plays out in our worship plans for the next few weeks. All of that is information I still want you to have, but you will understand how difficult it is to offer those fuller paragraphs now, in the painful light of last Friday's news from the Kamloops Residential School site. There is something quite off kilter in my heart for this Sunday, in particular – trying to reconcile planned rejoicing at the 96th anniversary of our denomination's inauguration with the awful truth that The United Church of Canada was one of several Christian institutions that operated residential schools on behalf of the federal government. Kamloops wasn't one of them, but others were.
I think I can hear what some might say in response to my off-kilter-ness: that there's still so much good to honour about our national church; that there have been significant statements of responsibility, remorse, and recompense by our national church, to and for residential school survivors, their families, and communities; that collectively, this UCC body of believers is committed to learning and responding, working hard to bring justice, long overdue, to our Indigenous neighbours and siblings in faith. All of this is true and good. I guess I just don't want one piece of our story to overshadow another, as has happened historically. I don't want us to set aside memorial candles for party candles. I think I'm trying to figure out how to have them all on the table, all together.
This complicated work of naming all the pieces of our shared story is not the easy route to choose. For too long, it seemed too hard and was just too easily ignored, as truths were suppressed by power and fear of exposure. Thankfully, that veil of ignorance is lifting, albeit slowly, and here we are, trying to learn how to move forward in the most faithful ways, holding the both-and of our existence, even when it is most uncomfortable to do so.
So, there's far more to say, to know, to seek to understand than I could naively hope to encapsulate here, or any Sunday morning, or even for most of my years to come, if ever. There are past and present sufferings that cannot be explained or justified, even as we must persist in breaking open their foundations, to resist their repetition. What that means for our next worship gathering is this: we are going to honour the day known as Union Sunday. We're going to thank God for our diverse heritage, and explore more of where we've come from, historically, denominationally, spiritually. We're going to try and see it in the frame of our UCC crest, and the symbol it seeks to be for our place in the wider world. Through it all, we're going to pay particular, humble attention to the phrase in the crest's bottom right quadrant, finally added in 2012. It's the Mohawk phrase, "Akwe Nia'Tetewá:neren," – All My Relations. It's where I ground myself in honouring the 215 children found in that unmarked grave. All My Relations is the phrase that offers my heart great hope for coming back to sacred balance with all God's people. More than just words, All My Relations is the point, I pray, from which we, as settlers, will see and choose the path to justice.
With love to you all,
Heather
"Deep in our hearts there is a common vision; deep in our hearts there is a common song;
deep in our hearts there is a common story, telling Creation that we are one."
(John Oldham & Ron Klusmeier, More Voices 154)
We are One, We are Many
A Celebration of the Affirming Designations of
Antler River Watershed, Horseshoe Falls & Western Ontario Waterways
Regional Councils

Save the Date!
All are welcome to join us, virtually,
Sunday June 6th, 2-3 pm (EDT)
to celebrate!
Guest Preacher: Rev. Michiko Bown-Kai
Featuring the music of David Kai, and the Rainbow Chorus
Please bring a candle (real…or not!) to help us
light the Christ Candle together
Zoom Link: https://united-church.zoom.us/j/92162978931
Meeting ID: 921 6297 8931
For more information, please contact
dmatheson@united-church.ca or tsamuel@united-church.ca
Save the date! On June 10, 2021 at 7:00 p.m. EDT, join Moderator Richard Bott and others for a special online worship service to celebrate the 96th anniversary of The United Church of Canada. This service will be livestreamed on the United Church YouTube channel
Please bring water with you to participate in the service.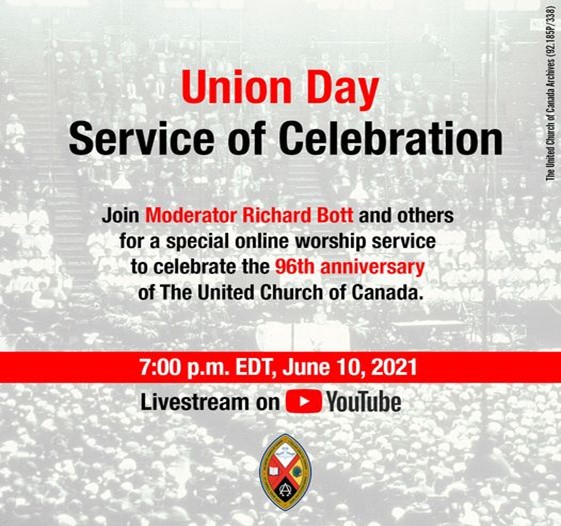 For a printable, full text version of the service, click here:
https://united-church.ca/sites/default/files/2021-05/96th-anniversary-service.docx
Total Page Visits: 760 - Today Page Visits: 2